When it comes to combining privacy with aesthetic appeal, a board on board cedar fence is the premier choice for homeowners. At Reed Fence & Deck Co, we specialize in crafting high-quality fences that serve as a beautiful and durable addition to any property. In this blog, we'll highlight the superiority of #1 grade Western Red Cedar and the robust construction techniques we employ, including our exceptional staining options.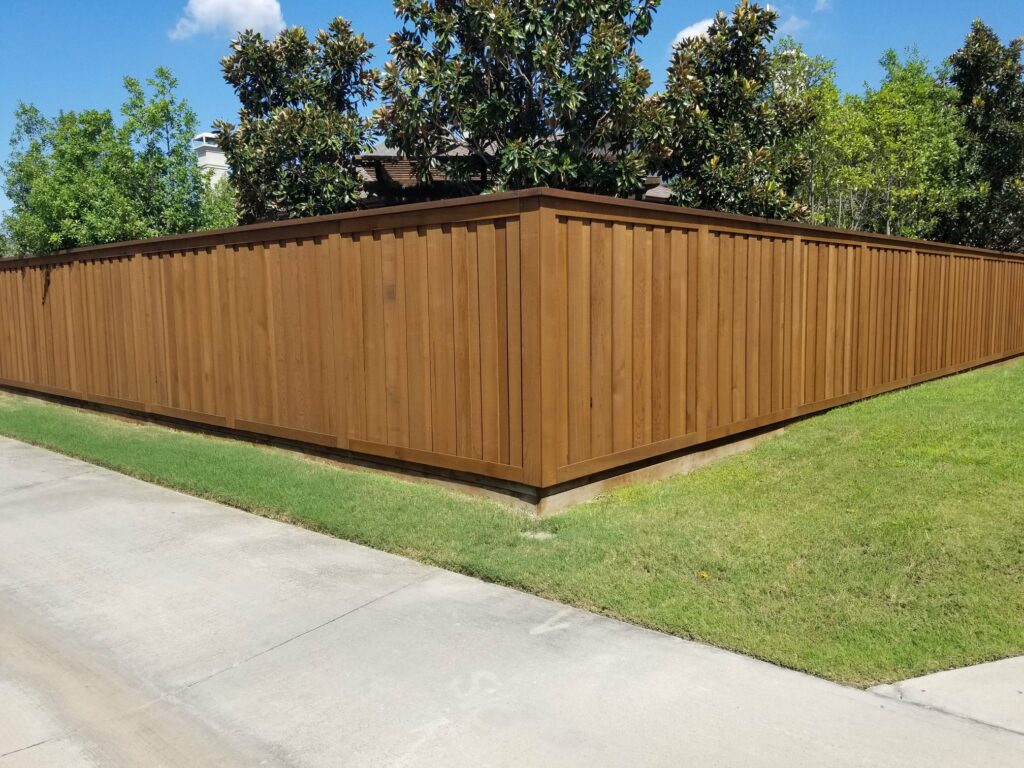 The Superiority of #1 Grade Western Red Cedar
Natural Beauty: Western Red Cedar is renowned for its rich, inviting color and natural beauty. Its fine grain and vibrant tone make it a standout choice for those who appreciate the aesthetic value of their outdoor spaces.
Durability and Resistance: This top-tier cedar is naturally resistant to decay, which means a fence crafted from this material will stand strong for years, maintaining its integrity and appearance without the need for frequent repairs.
Construction Excellence with Galvanized Steel Posts
Strength Meets Stability: At Reed Fence & Deck Co, we enhance the natural durability of cedar with 2 3/8 inch .095 galvanized steel posts. These steel posts provide unparalleled strength and stability, ensuring that your fence can withstand the elements and the test of time.
Galvanized for Longevity: The galvanization process coats the steel posts with a protective layer of zinc, making them resistant to rust and corrosion. This is crucial for maintaining the structural integrity of the fence and preventing sagging or leaning.
Custom Staining Options for a Personal Touch
On-Site vs. Pre-Stained: We offer the flexibility of having your cedar fence stained on-site to suit your personal preference or pre-stained before installation. This ensures a uniform application and a perfect finish from the start.
Variety of Color Options: Our variety of stain colors allows you to personalize your fence to match your home's exterior or landscape design. From natural wood tones to more bold and modern hues, we have a color to complement every aesthetic.
Why Choose Reed Fence & Deck Co for Your Cedar Fence
Expert Craftsmanship: Our team of skilled professionals is dedicated to crafting fences that are not just functional but also beautiful. We take pride in our attention to detail and commitment to excellence.
Customized Solutions: We understand that each homeowner's needs and tastes are unique. That's why we offer customized fencing solutions, tailored to your specific preferences and property requirements.
Satisfaction Guaranteed: At Reed Fence & Deck Co, customer satisfaction is our top priority. We ensure that every aspect of your fencing project meets your expectations, from the quality of materials to the final presentation.
A board on board cedar fence from Reed Fence & Deck Co is more than just a boundary—it's a statement of quality and style. With our top-grade Western Red Cedar, robust galvanized steel posts, and custom stain options, your fence will be a testament to both privacy and elegance. Embrace the lasting beauty and durability that only a cedar fence can provide.
[Ready to transform your property with a board on board cedar fence? Contact Reed Fence & Deck Co today to start customizing your premium fencing solution.]